Roller-compacted concrete road
Roller-compacted concrete is often applied all over the world, and it has proven its qualities in various, even the most demanding architectural projects. For yards, promenades, bicycle and rollerblading trails and all other tourist infrastructure, for the construction of industrial roads and service areas.
Benefits of a roller-compacted concrete road:

Personalized
Holcim's Centre for Innovation and Projects can fully tailor the solution to the individual needs of the project: from choosing the colour that best suits the environment, using recycled materials, to creative engraving and creating spatial dynamics.

Sustainable
Local product: from cement and aggregate, all the way to contractors, it contributes to the development of the local economy. The environmental feature of this product is its bright colour that allows for a more comfortable stay, especially in hot summer days, and for the same reason, less lighting is needed at night. It can be produced with recycled material and at the end of its service life, this road can be fully recycled.

Non-flammable
Concrete is an incombustible material, therefore building a road from roller-compacted concrete increases the surface which is inert in the event of fire. This road has the same effect as a fire lane.

Permanent
Resilience is one of the basic features of concrete. The concrete road is therefore long-lasting, more wear-resistant, and its maintenance is simpler and does not require frequent closures to traffic. Due to the high viscosity and tensile strength of concrete, even the high traffic load on a road like that will not create any dents that hinder driving to a big extent.
References:

Istralandia:
The investor opted for the red colour, so that the road could completely integrate with the environment and the distinctive Istrian red soil. Furthermore, guests are free to walk barefoot, as they do not feel the heat due to the colour and structure of the material.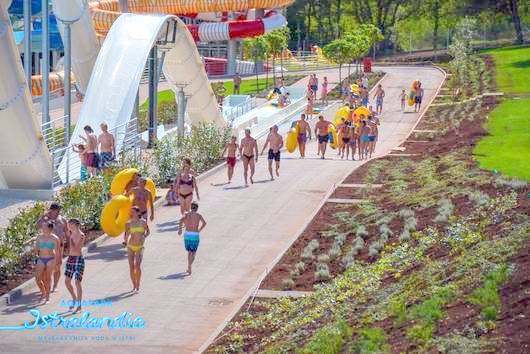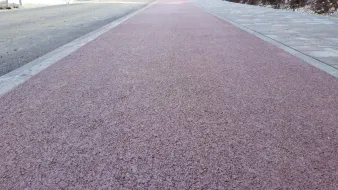 Bike trail in Camp Istria, Funtana 2.117 m2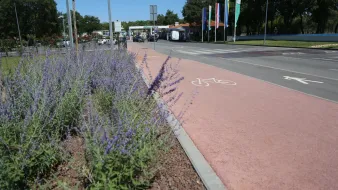 Bike trail in Camp Lanterna, Tar 1.500 m2